Iona is an ancient Gaelic word meaning Isle of Saints. Geographically, Iona is a small island, only 3 miles long, located off the western coast of Scotland, a short ferry ride from the Island of Mull.
Historically, Iona is the place from which St. Columba landed on in 563 AD along with his twelve companions and remained his home for the rest of his life. During his life, he introduced Christianity to the Celts and Brits of Scotland.
Musically, Iona is a British-based band whose lyrics focus on the roots of Christianity in the British Isles, and whose musical style, even if the band do not like being labelled, is a blend of Celtic pop, rock and new age, often compared to that of Clannad, Enya, Kate Bush, Yes, and Peter Gabriel. 20 years ago, it might have been called "progressive rock".

David Fitzgerald (sax, exotic wind instruments) who had been touring with Adrian Snell, Graham Kendrick, Bryn Haworth and other British musicians, is the founding member of Iona. In 1988, during a time of extreme physical and spiritual burnout, he traveled to Lindisfarne, a small island off the northeastern coast of England, related to Iona in its role in spreading the Gospel to England. It was at Lindisfarne that, God met with me, touched me, refreshed me, and lifted me up. And He put within me a hunger to learn more about the spiritual roots of our nation. His search led him to Iona, the birthplace of Christianity in Scotland, and the namesake of the band whose ministry would strive to revive the faith of this early Christianity.


Fitzgerald shared his vision with his friend and musician Dave Bainbridge (keyboards, guitars) who had toured with Sheila Walsh, Phil Keaggy, Graham Kendrick, and moreover with Adrian Snell. When Fitzgerald went into the history of Christianity in England, and the history of Iona, I saw that there was something there that could inspire us musically. They started writing together some jazz rhythms, soul sax, and Celtic aires fused to form the cohesive sound which make their instrumentals so enjoyable.
David Fitzgerald sent Joanne Hogg a postcard from Iona asking her if she would join the band. Joanne was the lead vocalist on Child of Darkness on Adrian Snell's Alpha and Omega rock opera. The same night Joanne received the postcard she had a dream about being on the island and the next morning she wrote the song 'Iona'. She accepted David's invitation and Iona, the band, was born.
Though trained as a doctor, she left the security of a career in medicine for the uncertainty of a rock band. I don't look on medicine as simply something I gave up but as a valuable part of my life experience; I have never doubted my decision to move on from it. I suppose that one thing that was ingrained in me by my medical experience was the ethic that compels you to share the knowledge of what is good and true and heals people, that hasn't changed.
The 1988 debut album, Iona, contains various subjects, though the main theme is the early roots of English Christendom as revealed through the lives of three men: Columba, Aidan, and Cuthbert. Columba landed on the island of Iona, where he established a monastery and sent out missionaries to evangelize in Scotland. Aidan left Iona to establish a monastery at Lindisfarne to evangelize in northern England. Cuthbert also played an important role in establishing Christianity in northern England, and is credited as being one of the earliest wildlife conservationists. It is the lives of these men of God, that inspired several songs. Other songs on the album are inspired by more contemporary events, such as the violence in Tiananmen Square and the fall of the Berlin Wall.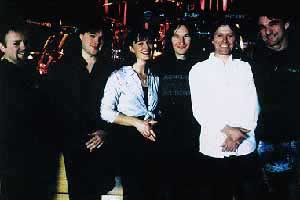 In 1992, the threesome became a fivesome with the permanent addition of Nick Beggs (chapman stick, bass guitar) and Terl Bryant (drums, percussion). Beggs feels very fortunate to be a member of this band and I have enjoyed greatly the musical challenges as well as the deep friendships that have grown over the years. We hope the listener will feel the passion and spiritual exhilaration we feel when playing together. Bryant says that, Playing drums in Iona is not only fun or musically challenging; playing some of the pieces musters up overwhelming feelings of being in the middle of a whirlwind empowered by a great force; it is very exciting.
Iona's second album, The Book of Kells, is a concept album, focusing on one theme only: The Book of Kells, an 8th century manuscript filled with lush pictures illustrating the Gospels, possibly originating from the monastery at Iona. Listening to the music while looking at the pictures from the book helps create a moving experience.
Iona's third album, Beyond These Shores, was released in 1994. New to the band is Mike Haughton (sax, flutes, recorder, backing vocals), who toured among the others with Cliff Richards, replacing Fitzgerald who left in September 1992 to pursue a full-time music degree. Musically, this new album has the similar mix of vocals and instrumentals with a more 'live' feel. Thematically, Beyond These Shores is largely based on the story of St. Brendan's Voyage. Brendan and a company of monks sailed from Ireland in a leather and wood boat in the sixth century to 'the promised land' which many believe to be America. Many songs on the album were inspired by this story and the unshakable belief and trust in God that prompted him to obey the Lord and follow His leading into the darkness.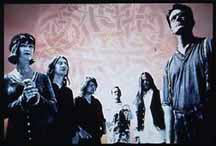 Released in 1996 is Journey Into The Morn, fourth Iona's album. It is based on figures and stories from the early Celtic church. Those clerics, living on some of the most desolate islands of the United Kingdom, are believed to have influenced and hastened the spread of Christianity throughout Europe. It's that sense of urgency, fortitude and vision with which Iona's music is imbued. As Joanne Hogg sings the original eighth century Gaelic text, Troy Donockley's whistles and bassist Tim Harries complete the six-piece unit band. The album is inspired by the eighth-century Irish hymn 'Be Thou My Vision' and a book of mediations on that hymn, The Eye of the Eagle. I think a lot of what came out of that little book was very focusing for us as a band in terms of a vision. Very simple things, but the whole idea of having a deeper understanding of who God is and the presence of God and trying to express those things Joanne Hogg says. The emphasis on vocals is another aspect that has changed from the band's early days: there are only three completely instrumental tracks so it's a little bit more weighted on the vocal side.
Heaven's Bright Sun, the live double album, was recorded during concerts in England in December '96 and released in '97. Current members: Dave Bainbridge (keyboards, guitar), Phil Barker (bass), Terl Bryant (drums, percussion), Troy Donockley (pipes, whistle, guitar, keyboards), Joanne Hogg (vocals, guitar, keyboards) and Mike Haughton (sax, flute, whistle). There are some special performances on it, including a 15 minute version of 'When I Survey'. Dave Bainbridge explains: We felt a lot of the material from the first two albums has progressed quite a bit since we originally recorded the songs, particularly 'Iona'. When we did that album we'd only done a couple of gigs. But now the band has become a six piece it just felt right to put down new versions of the old stuff as well as some of the best things we've been developing recently in concerts, such as some Irish reels.
On February 5th, Joanne Hogg's mother, Anna Moles, died very suddenly. At the time, Joanne was with Iona performing 'When I Survey' at a concert in Whitehaven. The live album is therefore dedicated to Anna, who passed from this life into the glory of Heaven's Bright Sun.
Our intention is to create high quality music with no comprise; emotional and dynamic expression from the heart; songs and pieces which will last and lift and excite the listener. Bryant continues We have drawn on a great deal from Celtic Christian subject matter purely because the people, time, and events on record have wonderful parallels for us to identify with.
The God of the ancients is the same today and will be the same forever.
In 1998, after eight and a half years of albums and touring, the members of the band feel its time for a period of reassessment, renewing of their vision, concentration on their families and to focus on writing the next Iona studio album. In addition to these activities, all the members are working on solo recordings, with other musicians on recorded projects and live appearances. Terl Bryant is leaving the band as he has felt unsettled for about a year. His replacement is to be Frank van Essen, a dutch drummer, percussionist and violin player.
Later in the year also Mike Haughton is leaving the band and his saxes and flutes will not be replaced (the space left in the sound will make room for Frank Van Essen's violin). Mike said I enjoyed in working with the band but the sabbatical year had been a time for reflection for me. I feel the time had come to leave.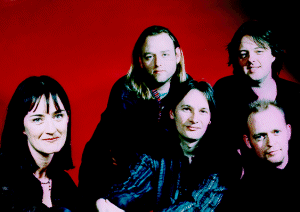 Therefore current Iona members are: Dave Bainbridge (keyboards, guitar), Phil Barker (bass), Frank van Essen (drums, percussion, violin), Troy Donockley (pipes, whistle, guitar, keyboards) and Joanne Hogg (vocals).
On May 28th 1999 at the Royal festival Hall in London IONA joined forces with the All Souls Orchestra for a unique collaboration to celebrate the band's tenth anniversary. Woven Cord marks IONA's return to live performances after their sabbatical year with their current line up.
The initial idea for the collaboration came from the ASO's conductor Noel Tredinnick back in 1997 - a suggestion that immediately spaked the ban's imagination. The prospect of expanding the band's sound palette to include orchestral instruments seemed a logical one, bearing in mind the already complex textural nature of Iona's music. However also aware of the possible pitfalls of such a pairing to create something new, Dave, Troy and Frank have beencareful in their arrangements to retain the essential atmosphere of Iona's sound, whilst giving scope for the orchestra to enhance and extend the music into previously unexplored territories.
Although this is a disc of Iona's compositions, it is first and foremost a record of two unique groups of musicians from disparate backgrounds, coming together for the first time, united by the common cords of music and faith.