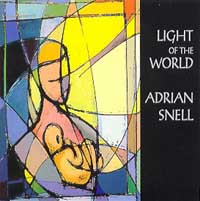 Music: Adrian Snell
Lyrics: Phil Thomson
Produced and arranged by Jon Birch and Adrian Snell

Light of the World is a unique blending of Christmas and children and music - an inseparable celebration of all that makes the story of Jesus' birth come alive. Here is a story so familiar... and yet, as each new drama unfolds, revealing in its rich lyrics and memorable music so many new dimensions, as we are drawn into the personal joys and tensions of such a momentous occasion. Joseph, totally baffled at Mary's insistence that her pregnancy is from God; Mary, torn by such conflicting loyalties; the long and arduous journey to Bethlehem - 100 miles on foot and donkey; Herod's genocidal jealousy; and, of course, the unbounded joy of God's children at the birth of the Messiah, fulfilling centuries of prophecy. The characters come vividly alive through accessible and singable melodies - and timeless words which, in their poetry are at once moving and honest. With a contemporary edge to the production, and all the exuberance of a lively children's choir, we are hearing the story as if it happened yesterday.
This release is a unique tribute to the popularity of an album which first found its way into the hearts of listeners as The Virgin in the early 1980's - commissioned for a BBC Radio One Christmas broadcast. Now, in this completely new recording, we have all the vitality of the original songs to listen to - yet Light of the World is also offered to us with a simple and direct approach which 'invites' groups from all places and of all ages to bring their own ideas to their presentations. To this end, the album is available with sheet music and backing tracks when required.
Light of the World is an essential part of the Christmas canon, to be enjoyed on its own; yet, it will not be long before it involves all the family, the school or college group - even the whole community - in a fully staged work of musical theatre, such is the inspiration and excitement generated by this 'must have' portrayal of the Christmas story.
TRACKS:
Light of the World - Part 1
From Ancient Times
Love in My Life
The Promise
How Can I Explain?
What A Love!
What Do You Mean A Baby?
All For Nothing
Joseph's Dream
My Heart Sings
Journey To Bethlehem/No Room, We're Full
Look At Us Now
The Warning/Kill All The Children
Simeon's Song/Son Of The World
Light of the World - Part 2