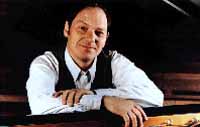 Adrian's musical career spans twentyfive years. During this time he has produced six major concept works and twelve solo albums. He has performed extensively in the UK, West and Eastern Europe, the United States, Australia and had many Radio and TV performances worldwide.

He has received major commissions (BBC 'The Virgin'), recorded with major orchestras (Royal Philharmonic 'The Passion' and the Dutch Metropole Orchestra), and TV and Radio highlights include ITV and NCRV Holland's productions of 'The Passion', HTV's special musical documentary of 'Song of an Exile ' and BBC Radio One's premiere broadcasts of 'The Virgin' and 'The Passion'.

His albums have sold well over a quarter of a million copies and his audience is drawn from the wide spectrum of those who consider themselves lovers of classical and contemporary music.
Music has been his 'first love' since the age of six. He is an accomplished pianist and guitarist, and his powerful, haunting voice has carried the heart of his songs on albums and in concert to tens of thousands over the years.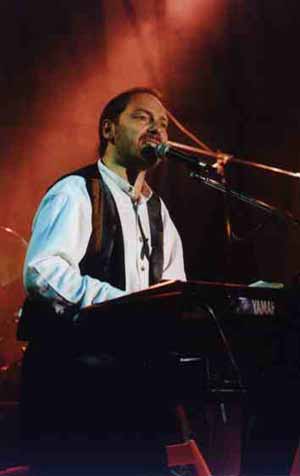 Classically trained at the Leeds College of Music and with a music diploma to his name (LGSM), Adrian's unique compositions demonstrate a fusion of classical, rock and 'world' influences - from heart stirring ballads to anthemic Rock opera to solo piano... each piece revealing a deeply sensitive writer, constantly committed to bridging the world of faith and the human condition. For as a Christian working in the often cynical music industry, Adrian is determined to overcome the reserve and mistrust towards those who choose to be open about their beliefs.
In June 1995 the premier release in Jerusalem of Adrian's major, two album concept work 'City of Peace'. This work explores the Jewish roots of the Christian faith drawing on poems written by Jewish authors from six thousand years ago to the present day. Many themes unfold within the work - the majesty and mystery of Jerusalem (three thousand years since its founding by King David), the longing for Messiah, His coming and the promise of 'The City at peace forever'.
And 'City of Peace' comes as a climax to eleven years of searching and discovery that began with a journey into the lives of Jewish men, women and children caught up in the Nazi Holocaust.
"It is eleven years since I walked through the gates of Bergen Belsen. I shall never forget that day; it changed me in ways I couldn't have imagined. Music is, in the end, the language of my heart, so not surprisingly much of my writing since then expresses the search for answers and meaning in all that the Holocaust and Jewish history opens up in us."
1997 have seen the release of 'My heart shall Journey' - the best of Adrian Snell a collection of ten years of writing and recording and end of 1998 the release of his new solo album 'Intimite Strangers'. Of this album Adrian writes: "These songs have been on my heart for a very long time now. With such personal material, I really want to let the music speak for itself! I owe much to my production partner Jon Birch who has helped to steer these songs in a very contemporary direction, whilst retaining the essence of my approach to songwriting. Together we've explored new textures, new sounds, new dimensions to my singing and whilst the end result may not be to everyone's taste, I can honestly say I'm very proud of our achievement and, as the George Micheal album title said, please 'Listen without Prejudice'! The first time you hear it, listen to it late and loud!!"