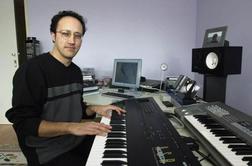 Biography

Luca is graduated in cello at the conservatorium, and plays besides bass, recorders and tin whistles. He also sings in his own band LUKA, does programming with keyboards and MIDI machines and experiments with different things that produce sound.

From 1981 until the end of 1995 he has been part of the band of Albino Montisci (I), with whom he has been touring in many nations and recording 6 CDs.

In 1989 he recorded the CD 'Occhi Sinceri', with the band LUKA, that contains songs written by himself and his brother Marco, in the Italian language. The band has been performing in theatres and pubs, had a few TV appearances, recorded a video-clip for the Billy Graham Evangelistic Association, has been finalist in secular concourses for new artists and it's still active today with the goal of bringing the message of the Gospel especially to the young generation through their pop-rock music.

In 1990 and 1991 Luca has been touring with Adrian Snell (UK), playing bass and cello for the project 'The Passion' in Holland, and recording and touring in different European nations for the project 'Father'.

In 1991 he has been part of the band of Andreas Vollenweider, Switzerland.
In 1992, together with Marco Genta and Manu Saladino, he started to work at the project 'Rediscovery', an instrumental CD published in December 1993 by the record company Kir Music (CH). It is a revisitation of old Christian hymns in a frame of new musical ideas.
Many guests have been playing for this CD, included Mike Haughton, Albino Montisci, Jean Pierre Rudolph, and the other members of LUKA (Simona and Lidia Genta, Giuseppe Rutigliano).
Rediscovery (as also the band is called) has been touring and playing concerts in different nations, sometimes presenting a multimedial show, with slides accompanying the music.
Luca's move to Holland in 1992 opened new doors to studio, TV and concert sessions for artists touring in the North of Europe.
In the last years his work includes tours in Holland and UK with Julie and Buddy Miller, tours and recordings with Nina Astrom, tours and recordings in Germany with Johannes Nitsch, a tour in Germany and Holland as bass player with Iona, concerts as guest musician with the Ronduit praise band, arranging and playing cello for the Classic festival with the Ronduit choir and onchestra, beeing part of the band for the EO Vrouw-Zijn dagen, playing as guest musician for the TV program Omega, studio sessions for different CDs (with among others Ralph van Manen, Danielle Ewert-van Es, Elly & Rikkert, Andy Pratt, Nina Astrom, Lighthouse, Twice, Clemens Bittlinger, Johannes Nitsch, etc. etc.).
Luca is also active as author and composer, arranger and producer. At the moment he just finished working at the instrumental CD 'Navigando', with 10 compositions of his own in which he played different kinds of flutes, cello, bass, nylon strings guitar and programmed keyboards and percussions.
The project was born out of an idea of Henk Pool and is addressed both to the lover of instrumental, atmospheric and ethnic flavoured music, and to the film and TV producers looking for background music with personality.
Guest musicians Mike Haughton, Frank van Essen, Robert Vroegindewey, Robert Riekerk and Henk Pool himself partecipated to the project, released by the record company Ecovata (NL), with publisher Artica Music/MCA.

Luca is also working at a new CD with the band Rediscovery and cooperating with celtic harpist Andrea Pozzoli in his own instrumental project.